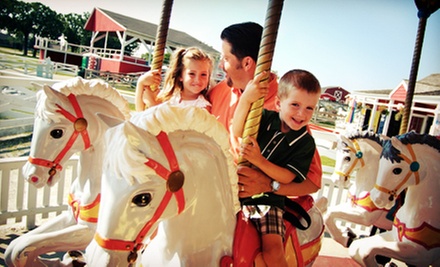 Groupon is offering half price on admission to Lamb's Farm in Libertyville! This farmyard, run by a non-profit organization, features a number of attractions including a petting zoo, a miniature golf course, and a cow-shaped bouncy house. Visitors can spend time with Bambino the cow, Levi the miniature horse, or a 600-pound pig named Miss Wiggles. There are smaller animals in the pens and petting areas.
$6 for one kids day pass (a $12 value)
$10 for one adult day pass and one kids day pass (a $20 value)
$20 for two adult day passes and two kids day passes (a $40 value)
Groupon expires October 31, 2013 (so plenty of time to use!) and is limit 3 per person with 2 additional as gifts.
Get half price admission to Lamb's Farm here!